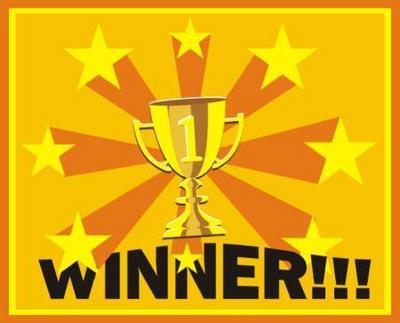 What did you win playing FREE instant win games or sweepstakes this year? This was the first year I really got into playing instant win games online (and signing up for sweepstakes online and in store)...I'm happy with what I won this year, but next year I hope to win even more!
One of the best sites out there for links to instant win games is
Sweeties Sweeps
(click on Other games, instant wins). I also like to play games that are posted in the Contest Creek on
Fishing for Deals
. Check them out if you are interested in playing along with me!
I think for the new year I am going to do a monthly Winner's Round Up post...I'll share what I've won and you can share too! I love winning vicariously through others :)!
Here's what I snagged in 2009:
(1) $15 Kraft Coupons
(7) $25 Visa gift card from Mycoke.com
(2) Free Mars Candy Bar
(5) Free Jar Pace Salsa
(1) $5 Subway gift card
(2) $25 Visa from Huggies Enjoy the Ride
(1) Char-Broil Grill - Jewel/Osco in-store raffle
(3) $15 Best Buy gift card
(1) $10 Best Buy Pitch In gift card
(2) 100 Bonus Box Tops
(1) $10 Red Robin gift card
(1) Playstation 3 NCAA Football 10 Game
(1) $5 Home Depot gift card
(1) $30 Amazon.com Giftcode
(1) 2 Movie Passes Hollywood Movie Money
(1) Free Appetizer/Dessert TGI Fridays
That's $330 in gift card prizes!! Leave a comment below and let us know what YOU won!